Let's get the financial stuff out of the way first. I did go onto Safeway's website yesterday and put together a list of things for which I should try to find additional coupons. Then I started using a couple of coupon sites to look for those matching coups. I tell you it is a lot harder than I thought. After about 45 minutes of work, I had only found one thing that I could coupon to below $.50.
I think the real money is in paper coupons that are included with newspapers and grocery circulars. The problem being, I live in an apartment, so I don't have easy access to these types of deals. Therefore, my goal for today is to figure out a way to get these paper coupons without incurring an additional cost. We'll see how that goes.
Onto more serious business. Today is Hillary Rodham Clinton's birthday. Wondering how old she is? Take a guess. Okay, ready? She's 64. Seriously! I was shocked, she looks great especially considering the stress the poor woman has endured over her life; a husband who has a thing for chubby chicks, a failed presidential bid, and being Secretary of State during one of the most volatile periods of world history. Go on with your bad self, Hill-dawg.
While I respect this woman immensely, there is one thing that I just cannot condone; her apparent love affair with the scrunchie.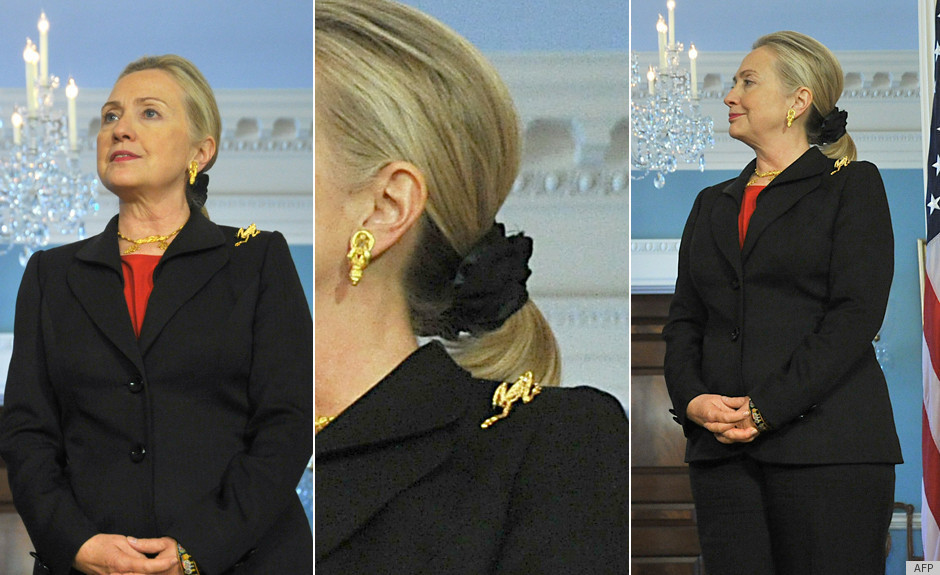 Hillary, amiga, I'm loving the long hair, but try a hair tie, they even sell clear ones now, tres tres chic! And while we're on the subject, why are you wearing that broach so high? From a distance you look like a military official with half an honor bar. You're better than that.
Perhaps what is most upsetting about this most recent choice is the fact that a majority of Americans approve of it! What is in the water, fellow patriots?! Check out the poll on this Huffington Post article for the most recent numbers.
My theory is that people approve of what Hillary does, regardless of its effect on our nation's corneas. I look at it this way, Hillary has helped us so much, why not help her by jujing homegirl up a touch? Do your part, sign the Stop the Scrunchie petition and vote "no" in the Huffington Post poll. We owe her that much.